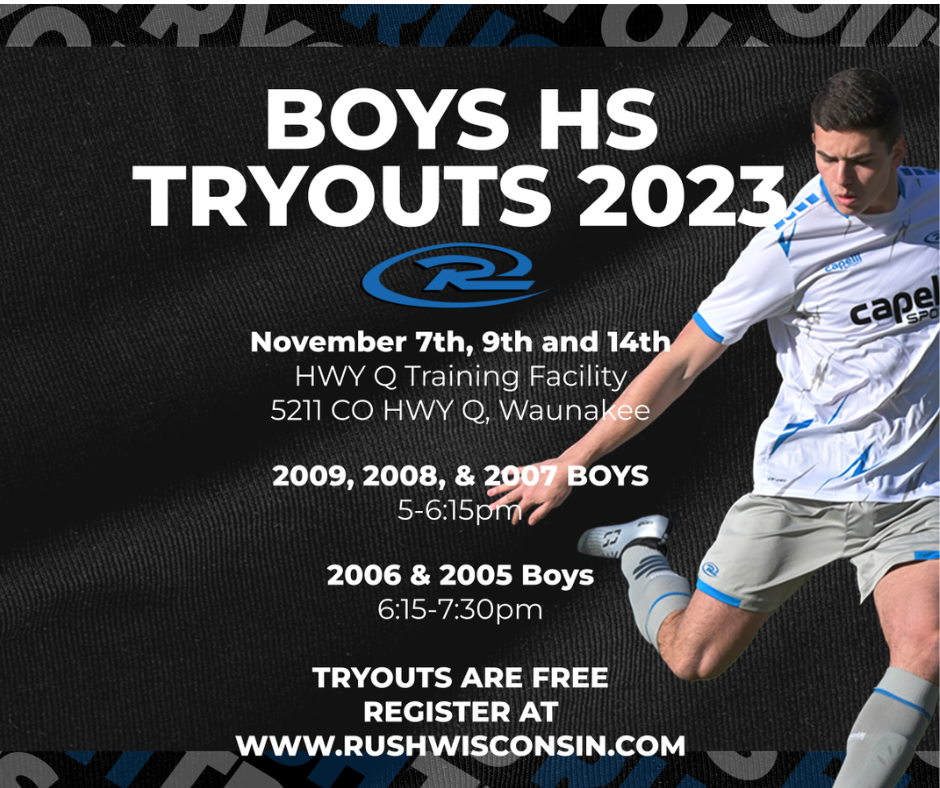 2023-2024 Boys High school tryouts are open!
Looking for a highly competitive program to enhance your soccer skills? Register for our tryouts and join the Rush! 
Tryouts will be held at our Hwy Q Facility (5211 CTH-Q, Waunakee) on the dates listed in the flyer. 
Sign up through PlayMetrics. All attendees must sign up to be considered for a team. 
Why Join Rush?
When a player becomes part of Rush Wisconsin's competitive soccer program, they begin a journey that ultimately not only strengthens their game, but also teaches the life skills of teamwork, dedication, friendship and being part of a supportive community.
Governed by the guidelines of Rush Core Values, U.S. Soccer, and the Wisconsin Youth Soccer Association, our program builds each player along their own unique development path, growing them individually based on their abilities and as part of a successful team.
We are affiliated with and benefit from our association with Rush National, now recognized as one of the largest youth soccer clubs in the world with over 50,000 registered players from 42 states in the USA and over 60 countries around the world.
All levels of play are available through this national association and the opportunities for player, parent, coach and community support and development is available on a global scale. No other club in this area can offer such a universal network of resources.
Rush Wisconsin enjoys access to the College Advanced Placement Program (CAP), the Rush Select Program and the Rush Player Pathway. If you are interested in the complementary college placement program that starts in eight grade, seek National Youth Team opportunities or beyond, we invite you to visit see the links to learn more about these to Rush offerings. 
Rush Wisconsin is recognized within the state and regionally as a top ranked program. Our teams have won championships at the local, state and national level, including multiple State Cup titles. Recently, Rush Wisconsin placed boys and girls on the Rush National teams, which toured Italy and Germany this past summer! Rush players are consistently placed on scholarship in top colleges and universities around the United States. Our player pool comes from a 75 mile radius of Madison, WI.
Tryout Information
Please arrive 30-45 minutes before the tryout to confirm your registration. We will ask you to double check your contact information. It is imperative we have your correct email and phone number. This is the information we will use in the notification process. Parents are strongly encouraged to stay for a parent meeting that will start soon after the tryouts begin. The parent meeting traditionally takes between 30-40 minutes. Players are expected to come with a pumped up soccer ball, soccer cleats, shin guards and proper soccer/athletic attire. All players are required to bring sufficient water to stay hydrated.
who should attend?
New players to Wisconsin Rush
All current U10-U19 Rush players
can i still join if i cannot attend tryouts?
You must register for tryouts even if you cannot attend tryouts. Please notify us if you cannot attend and we can arrange a seperate evalutaion date to determine if we can place you on a team. Contact roy@[email protected] with your players name, gender, age, and current team information.
Rush Wisconsin is a competitive soccer club and the two most important criteria we use in placement of players onto our teams are:
Ability level – players are assessed based on Technical, Tactical, Physical, Psychosocial and Psychological criteria appropriate for their age group.
Commitment level – players who consider soccer to be a primary sport and/or want to excel in the game are a good fit for our club. While we attempt to form multiple teams at an age group, the commitment level associated with all our teams is the same.
Playing Up Philosophy and Policy
The change to birth year registration have parents and players asking about our policy on trying out and playing up at a birth year age group other than the actual birth year of the player.
Rush Wisconsin will not allow any player to sign up for tryouts at an older birth year. Players must try out at their designated birth year. If a player is excelling in their own birth year tryout, they must meet the following criteria for the coaching leadership to consider their candidacy to be evaluated to play and be registered onto the older birth year team.
2. The player must be a top player in their own age group and placement into their own age group is deemed as detrimental to the player's development
3. The player must be a top player in the older age group and placement into the older age group is deemed as developmentally appropriate.
Coaches are instructed to look closely at players who fulfill both these criteria at tryouts. We will then initiate the evaluation at the older age group internally and will communicate with parents and the player accordingly.
what happens during tryouts?
Players:
There are 2 days of tryouts. The first day traditionally involves small sided situational activities that will allow coaches to assess individual technical ability, decision making, overall athleticism, coachability, focus and effort. The second day will usually involve playing small and large sided games. Assessments will include items above but there might be added emphasis to conduct positional assessments (GK, Defender, Midfield, Forward). If a tryout day is cancelled due to inclement weather, please note the replacement rain date identified in the schedule.
Parents: 
The Technical Director of the Club holds a parent meeting before each tryout. This meeting is intended for all parents, new and returning to Rush Wisconsin. The following will be covered: 
Tryout process and selection
Anticipated team formation
Notification process
Team description and schedules
Benefits of Rush programming – local, regional and national
Rush Core Development Philosophy
The Player Pathway in Rush
Explaining cost of the program
Q&A
what to expect after tryouts
There are specific notification dates that are dictated by the governing bodies in Wisconsin. While offers can start to be made at 12PM, please be patient as we have a lot of emails to process as part of the offer process.
11U-15U (2013-2009 Birth Year) – June 16, 2023, at noon

16U-19U (2008-2005 Birth Year) – June 23, 2023, at noon
about the notification process
You will get a specific offer to a team from a Rush coach. Our team designation are as follows:
Rush – 1st team
Blue – 2nd team
Grey – 3rd team
Please respond as quickly as possible to the offer. The offer is only valid for 24 hours. We cannot guarantee your offer once the 24 hours has expired. You must respond to the offer via email and register for the team via the link in your notification letter. A minimum of $100 deposit is required to secure your spot on the team. You will also find the contact information for the coach. If you have specific questions about the team offer, please do not hesitate to email or call the coach.
expectations of competitive soccer
The Player
Commit to attending training and games
Communicating with the coach if you cannot attend
Be present and committed to the team
Observe the Player Code of Conduct
Be open to coaching and working on your own to improve
The Parent
Support the players commitment to attend training and games
Communicate with coach, team manager and club administration in a timely manner
Observe the Parent Code of Conduct
Fulfill volunteer hours to assist the club
Pay your bill in a timely manner
Contribute to making our soccer community stronger for the benefit of all our players and teams
What can you expect from us?
The Coach
To be present at training and games. A suitable replacement will be secured if a coach has to miss training or games
To be prepared for all training and games
To evaluate and assess every player on the team
To support a positive, constructive, fun and safe environment
To support the soccer ambition and development of each player
The Club
To be your soccer home and assist you in your total soccer journey over the coming years
To assist you in navigating the club and the Rush national program and all the relevant offerings for your player and the family as a whole
To mitigate problems as and when they occur
To assist in the management of your experience with the coach and the team
options for 8th grade players at Rush
The options that Rush has been able to present in the past has been dependent on the number of 8th graders who are in this position year to year. Solutions that have worked for us in the past and that we will continue to exercise include but might not be limited to:
Create a 8th grader team that can compete in local Classic, State League or MRL. This is based on the number of players and their level. Not a feasible option every year due to numbers
Combine our 8th grade group with other local clubs and create a team that can compete at the appropriate Classic, State or MRL level depending on the level of players
Combine our 8th grade group with other Rush clubs in Wisconsin (for example, Rush West in Lacrosse, Elkhorn, Kenosha, etc.). In this instance, players will practice with teams at their respective clubs but come together to play league games. While this is not an ideal solution, it has worked well when it has been done.
While it has not happened yet, it is possible that none of the above options are available. If this is the case, 8th grade players will train in the best suited environment for them (younger age but same gender team or same/older age but different gender team). League and Tournament games cannot be guaranteed but every effort will be made to find guest playing opportunities for these players.
There is a nominal fee to cover league and coaching expenses. In 2022, this additional fee averaged approximately $150 for the season.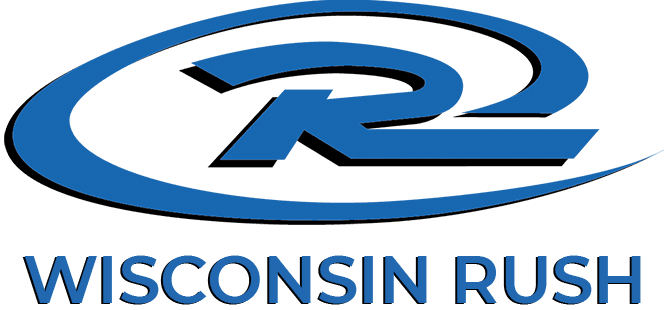 Office Hours
Monday - Thursday: 9:00 am - 4:00 pm
Friday: 9:00 am - 2:00 pm
Saturday - Sunday: Closed