U11-U19 Competitive Soccer
Boys and Girls
Program Description
Rush Wisconsin's competitive program offers a more challenging and competitive playing environment than is typically provided by local recreational leagues. The primary goal for our competitive team program is to help each player reach his or her maximum potential with regards to soccer.
At the U11-U15 age groups we are focused on developing players to get ready for their respective high school programs. There is a heavy emphasis on teaching and acquiring individual skill on the ball and applying it to the game. Tactics (organization of the team and decision making) is an area of focus as they get into the U13 and U14 age groups.
At U16-U19 age groups while we continue to develop player proficiencies to impact their ability to contribute to their high school varsity and junior varsity teams, we begin to focus increasingly on preparing them for the demands of the college experience. We start to focus our attention on advanced tactics, physical and mental development to showcase our players for top colleges and universities around the country. The College Assistance Program is a highly prolific offering that is included in your fees. Players and parents receive individual and personalized attention to assist them in securing their ideal placement into college. Multiple program offerings through our national and international network allow us to showcase our players all around the country for colleges and universities.
Competitive teams are formed in the summer of each year through open tryouts and evaluations. Players are accepted to their team for a one – year (12-month) commitment beginning July 1 to June 30th the following year. All Rush teams practice 3 times per week. The U11-U14 age groups participate in a minimum of 5 tournaments for the year and our U15-U19 teams participate in a minimum of 3 tournaments for the year.
The Competitive program requires travel to local, regional and/or out-of-state tournaments. Individual teams compete at various levels depending upon the competitive needs of the players involved.
For more information about Rush Pathway and National programming available to all our players, please see the following links:
COLLEGE ADVISORY PROGRAM
RUSH SELECT
RUSH PLAYER PATHWAY
If you have any questions about the Competitive Program or would like additional information please contact us at [email protected].
Why Rush wisconsin?
When a player becomes part of Rush Wisconsin's competitive soccer program, they begin a journey that ultimately not only strengthens their game, but also teaches the life skills of teamwork, dedication, friendship and being part of a supportive community.   Governed by the guidelines of Rush Core Values, U.S. Soccer, and the Wisconsin Youth Soccer Association, our program builds each player along their own unique development path, growing them individually based on their abilities and as part of a successful team.
We are affiliated with and benefit from our association with Rush National, now recognized as one of the largest youth soccer clubs in the world with over 50,000 registered players from 42 states in the USA and over 60 countries around the world. All levels of play are available through this national association and the opportunities for player, parent, coach and community support and development is available on a global scale. No other club in this area can offer such a universal network of resources. 
Rush Wisconsin is recognized within the state and regionally as a top ranked program. Our teams have won championships at the local, state and national level, including multiple State Cup titles. Rush players are consistently placed on scholarship in top colleges and universities around the United States. Our player pool comes from a 75 mile radius of Madison, WI. 
options for 8th grader players
The options that Rush has been able to present in the past has been dependent on the number of 8th graders who are in this position year to year. Solutions that have worked for us in the past and that we will continue to exercise include but might not be limited to:
Create a 8th grader team that can compete in local Classic, State League or MRL. This is based on the number of players and their level. Not a feasible option every year due to numbers
Combine our 8th grade group with other local clubs and create a team that can compete at the appropriate Classic, State or MRL level depending on the level of players
Combine our 8th grade group with other Rush clubs in Wisconsin (for example, Rush West in Lacrosse, Elkhorn, Kenosha, etc.). In this instance, players will practice with teams at their respective clubs but come together to play league games. While this is not an ideal solution, it has worked well when it has been done.
While it has not happened yet, it is possible that none of the above options are available. If this is the case, 8th grade players will train in the best suited environment for them (younger age but same gender team or same/older age but different gender team). League and Tournament games cannot be guaranteed but every effort will be made to find guest playing opportunities for these players.
There is a nominal fee to cover league and coaching expenses. In 2023, this additional fee averaged approximately $150 for the season.
Player registration fee

5 tournaments

League fees

Fall training, indoor winter training, and spring training

PlayMetrics fees

Veo Video
Player registration fee

5 tournaments

League fees

Fall training, indoor winter training, and spring training

PlayMetrics fees

Veo Video
Player registration fee

3 tournaments

League fees

Fall training, indoor winter training, spring and summer training

PlayMetrics fees

Veo Video

College Assistance Programming (CAP)
Player development
Every year in late May and early June, soccer clubs conduct their annual tryouts to place players on a team based on their abilities. Those tryouts take hundreds of man hours to look at hundreds, possibly thousands of players in a short period of time. While majority of the players receive a phone call and are placed appropriately, many fall through the cracks, some cannot attend these tryouts, and many are too nervous to show their true ability.
When we look at the athletes, we measure their technical and tactical abilities along with their physical and psychological attributes. A tryout period does not allow us to fully rate players accurately. For these reasons, players will be observed throughout the entire year by their team Head Coach and Director of Coaching at training sessions and games. They will then be consequently placed more accurately within the Rush system. Evaluations will be based on the previously mentioned components in addition to attendance, attitude, team chemistry, and consistency, to name a few.
COMPETITIVE FEES
Competitive fees range from per season ($1500 to $1800 per year). Payments can be made in 3-4 installments each season. Additional customizable payment plans can be requested by contacting Becca at [email protected]. Financial aid is available for those who need it. All fees include Wisconsin Rush fees, player registration fees, regular field rental expenses and maintenance, tournament fees, Veo video fees, Teamsnap fees. The fees DO NOT include referee fees, coach travel expenses, uniform, and winter league fees (optional).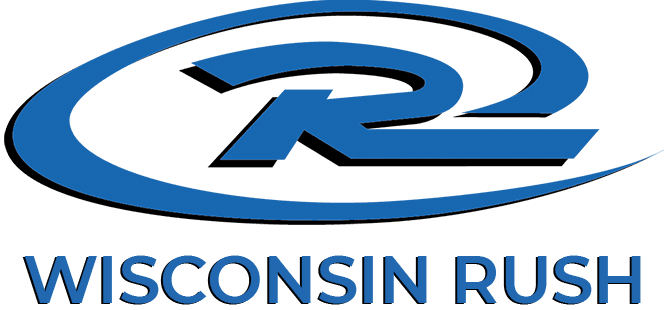 Office Hours
Monday - Thursday: 9:00 am - 4:00 pm
Friday: 9:00 am - 2:00 pm
Saturday - Sunday: Closed