Rush Wisconsin / TOCA Soccer Camp – 2023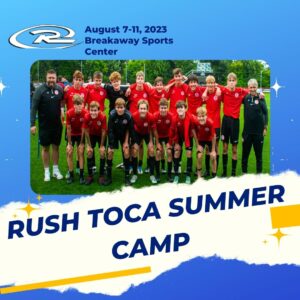 This year we are offering a one-week day camp to the area's serious soccer players through a
collaboration between Rush Wisconsin and TOCA Madison. This camp will offer girls and boys
age 10-18 an opportunity to train with top-level coaches and benefit from TOCA's training
technology. The camp will run August 7-11, 2023, from 8:30-4:30 pm at TOCA Madison,
located in Fitchburg, WI.
CAMP OBJECTIVES: Provide area youth soccer players with access to cutting-edge technology
and top-level international and local coaching to develop their elite soccer skills.
Each day will include training sessions led by Johneen Black, a premier professional coach for
Larne FC in Northern Ireland. Larne FC is one of the top clubs in Ireland, competing in the
European Cup and enjoying incredible success. Rush Wisconsin's Roy Patton will join Johneen
Black in conducting training sessions, along with other top coaches from Rush Wisconsin.
Among Coach Patton's accolades as a player and a coach, he served many years as a head
coach in Division 1 NCAA soccer and serves as Rush Wisconsin's Director of Coaching.
In addition to training and instruction, athletes will receive two TOCA sessions per day, which
is a unique technology-driven soccer training focused on skills, fundamentals, and game-like
simulations. Athletes will also utilize recordings to discuss tactics and elements of play with
skilled coaches. The camp will offer feedback and correction through visual and on-hand
coaching, making this a unique, fun, and highly productive week for the serious soccer player.
Each day, athletes can expect:
– Indoor training with Johneen Black, Larne FC and Roy Patton, Rush Wisconsin
– Fully supervised breaks
– TOCA sessions — technology-driven trainings — led by skilled coaches
– Video presentations and analysis to discuss tactics and elements of play
– Indoor competition to conclude each day
– Camp evaluation by a skilled coach
– Each athlete will receive a Rush – TOCA camp t-shirt
– Sessions will be held indoors at the TOCA Madison facility in Fitchburg, WI
Camp costs: $485 per athlete, five days 8:30 – 4:30 pm
Register before 5/31/2023 to receive $20 early registration discount: $465 per athlete